Security > WEB Firewall > Console Guide > Self-Service
The WEB Firewall Self-Service provides guides to create and operate WEB Firewall instances for the protection of web servers. This document shows how to use the WEB Firewall Self-Service.
To enable WEB Firewall, login to NHN Cloud Console and click Security > WEB Firewall on the service list.
Service Application and Release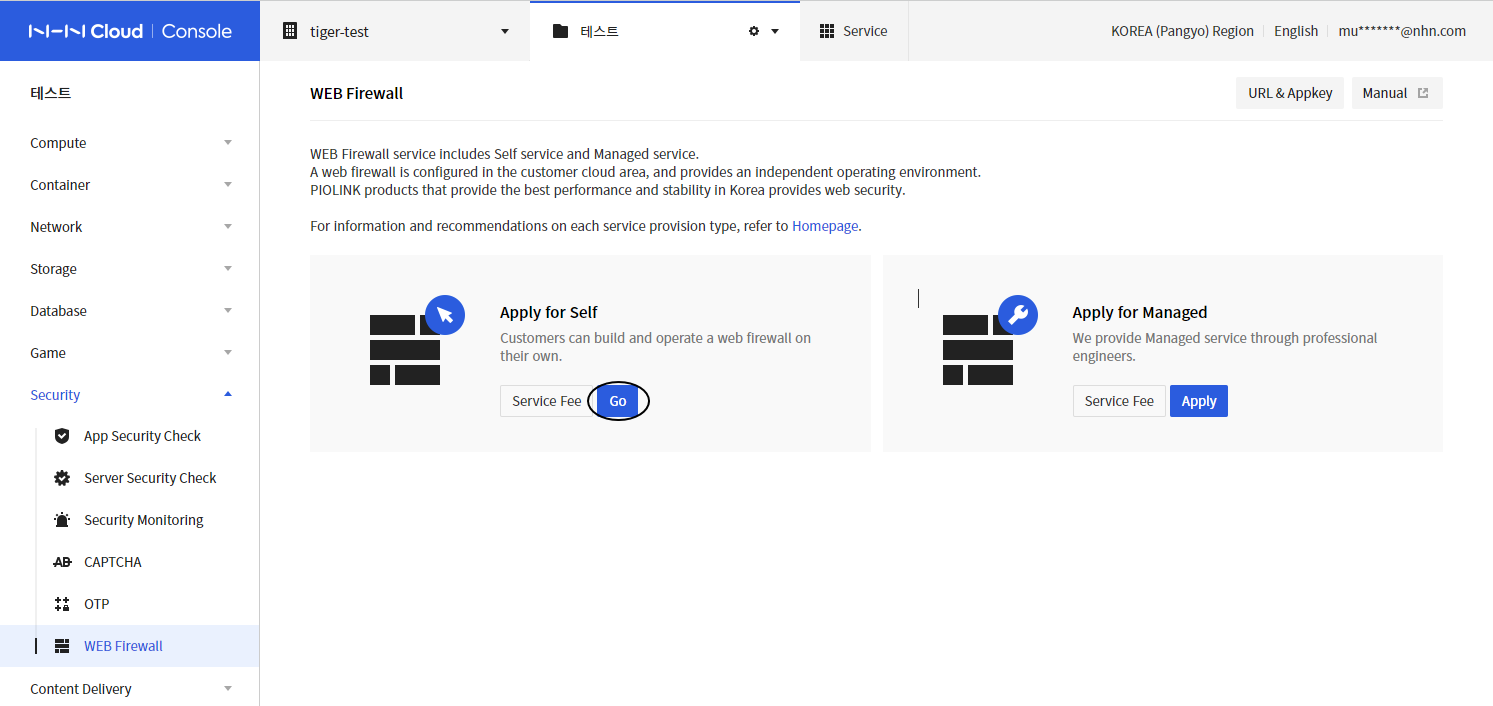 Create WEB Firewall
Go to WEB Firewall and Pricing, and click Direct Link for Self-Service to create instances.
Click +Create Instances and select PLOS WAF on the list and enter instance information. For more details, see Details for Creating WEB Firewall Instances as below.
※ Prices are charged immediately after an instance is created.
Release
Select and delete WEB Firewall instances.
※ Since traffic goes through WEB Firewall , while it is configured, deleting an instance during service may cause service failure. ※ Check if your web service is in service before deleting an instance.
Creating WEB Firewall Instances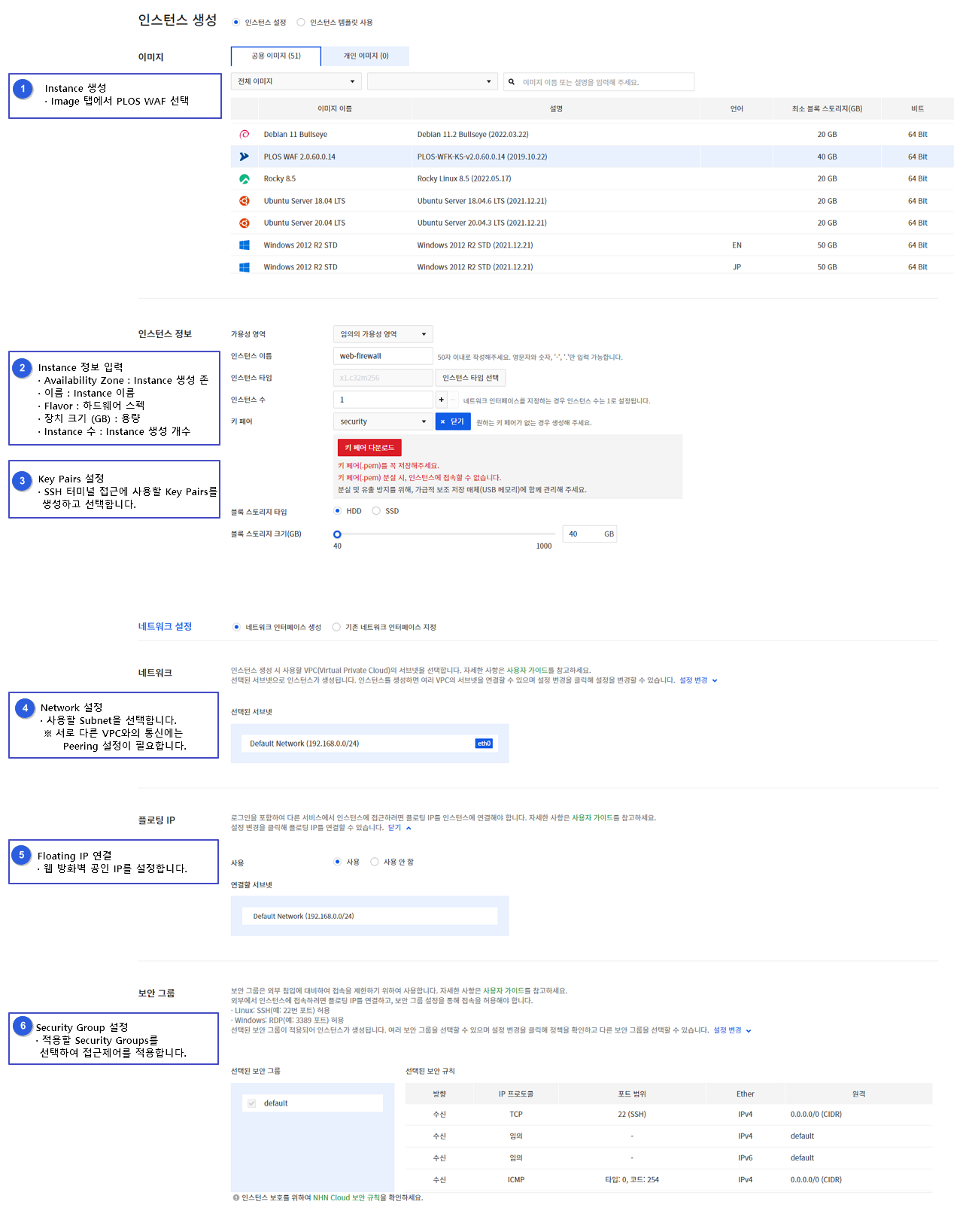 ※ Security groups are set as below for reliable IPs and ports, like below.
Direction
IP Protocol
Port Range
Remote
Description
Ingress
TCP
80 (HTTP)
0.0.0.0/0 (CIDR)
Web service port
Ingress
TCP
443 (HTTPS)
0.0.0.0/0 (CIDR)
Web service port
Ingress
TCP
8443
x.x.x.x/32 (CIDR)
WEB Firewall management port
(allows manager IP only)
Ingress
TCP
22 (SSH)
x.x.x.x/32 (CIDR)
WEB Firewall terminal port
(allows manger IP only)
Ingress
ICMP
-
192.168.0.0/24 (CIDR)
Health check communication between WEB Firewall and web servers
※ Health checks for WEB Firewall are based on ICMP, and if health check fails for web servers, the web service does not operate.
Initial Setting
Follow the guide for WEB Firewall initial setting, including the following:
Set the application;
Set the server to be protected, from load balancing menu;
Enable Source NAT to run in the proxy mode;
Test the access to WEB Firewall IP to see if the web service works properly.
Save and back up the setting.
Guide for WEBFRONT-KS Initial Settings * After initial setting is completed, change your DNS setting to WEB Firewall floating IP, to lead the domain traffic you need to protect to go through WEB Traffic. * The PLOS of the web firewall must be updated to the latest version as specified in the release note provided by the manufacturer. * To download release note: Access firewall > SYSTEM > General Settings > Manage PLOS > Download PLOS > Download.
Operations
Read through the WEB Firewall configuration description to run equipment, including the following:
Enable the security policy to apply.
Make use of the learning technique to optimize policy, including exception handling.
Monitor security logs.
Description of WEBFRONT-KS Application Configuration Description of WEBFRONT-KS System Configuration
※ Self-Service provides User Guides only, while Managed Service supports with operations and around-the-clock security surveillance service.