Mobile Service > IAP > ONE Store Console Guide
[Notice] A new IAP SDK that supports subscription has been released as NHN Cloud SDK. No new features will be developed for the existing IAP SDK. This document is the guide for NHN Cloud SDK.
Create your license key and OAuth credentials in the one-store to register for the IAP app information.
Create One-Store Key
Apps > select App> In-App정보 > Licensing & in-app billing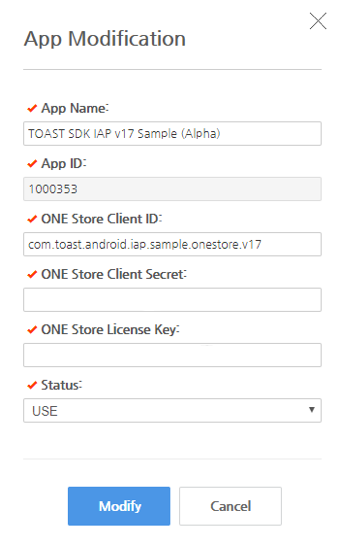 | Key | Description |
| --- | --- |
| Store ID | ONE Store v17 |
| App Name | App Name |
| ONE Store Client ID | ONE Store ClientID |
| ONE Store Client Secret | ONE Store Oauth Client Secret |
| ONE Store License Key | ONE Store Oauth License Key |